residential Roofing
Everyone knows the roof of their house is important, but it's easy to forget just how important until something goes wrong. Don't wait until there's a roof leak, torn shingles, or other damage to think about the condition of your roof.
we specialize in roof repair & replacement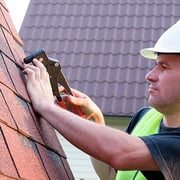 A leaky roof or damaged shingles are typically the most obvious signs of roof damage. A professional roofer can help identify the areas of your roof that need attention and determine the best plan of action.
Even when there's no evidence of roofing problems, it's smart to have your roof inspected every year by an experienced roofing contractor.
Another time to schedule a roof inspection is after a severe storm. By taking care of basic roof maintenance and making minor roof repairs as required, you can avoid roof leaks that can damage your home and ruin your possessions.
Whether you are looking to fix a damaged roof, upgrade the look of your home with new roof installation, or replace missing or broken shingles, the expert team of roofers at Roofsmith Restoration of Ohio can help. Our roofing services are available in and around the Greater Cleveland area.
Common Roofing Problems
Do you have a roofing problem? Sometimes roofing problems are obvious, like when a gutter gets crushed by a ladder or shingles are blown off the roof during a storm. Other times, a closer look is required to identify an issue that deserves attention. Some problems are easy to detect, while others require an expert eye.
The good news is that all the problems explained below can be detected and corrected when you work with an experienced, full-service roofing contractor like Roofsmith Restoration.
No matter how big or small your roofing damage, we have the solutions and expertise to be able to fix the issue quickly and effectively. We provide reliable roofing repair services for any of the common roofing problems that might be affecting the integrity of your roof.
Blow-off Damage
One way that high winds damage roofing materials is by blowing the finished roofing entirely off the roof. Blow-off damage typically occurs in a section of the roof or on an entire side of the roof that was exposed to the highest winds. Roofing felt and roof sheathing can also be blown away by severe winds.
How to Fix It:
If sections of the roof have been blown off by high winds, we will install new roofing and ensure that your home is properly protected against future storms.
Major Structural Damage
Storms and high winds damage roofing indirectly by causing tree limbs and entire trees to fall on the roof. Structural damage from impacts can range from small punctures in the roofing and roof sheathing to the complete collapse of the roof or roof section.
How to Fix It:
Depending on the damage, we will decide if the damage is worth fixing or if a roof replacement will provide better results.
Damaged Shingles
Roof shingles (asphalt and wood) can show signs of damage simply because they're wearing out. In other cases, damage occurs because of other factors. Missing, broken and torn shingles can be caused by wind, impact or foot traffic. Old shingles often cup, curl and become brittle; these are all signs of roofing that should be replaced. "Bald" shingles that have lost their protective granules detract from the roof's appearance and will age prematurely if they're exposed to direct sunlight. During a roof inspection, it's also important to look for "nail pops" – roofing nails that have been pushed up through roof shingles and can cause roof leaks.
How to Fix It:
Sometimes shingles can be repaired and sometimes the roofing will need to be replaced. Our expert roofers will inspect your roof and choose the best course of action depending on the extent of the damage.
Roof Leaks
Unless a large tree branch has punched a hole in your roof, roof leaks can be difficult to detect. Water can leak past the roofing through a hole made by a popped nail. It can also leak into your house around damaged flashing or because of water backed up behind an ice dam. The point where the leak found its way to your living space may or may not be close to the leak location.
How to Fix It:
It's smart to call in an experienced roofing professional if you find water leaking into your house from above. Roofsmith Restoration will inspect the chimney and vents for cracks in the flashing, check the eaves for damage from ice dams, look for damaged shingles, and check the attic for leaks in the deck.
Damaged or Missing Roof Flashing
The main purpose of flashing is to keep water away from building materials or building assemblies that can be damaged by moisture. Flashing can be replaced or reused during re-roofing and roof repair. It can also be omitted or incorrectly installed.
How to Fix It:
A roofing inspection should always include the inspection of roof flashing to identify damaged or missing flashing problems that require correction.
Damaged Gutters and Downspouts
Managing roof runoff can help prevent basement flooding and other moisture damage. That's why it's important for gutters and downspouts to function correctly. Gutter and downspout damage can range from small dents and scrapes to sections that become crushed or bent. It's also possible for gutters to pull loose if fascia boards or rafter ends have been weakened by wood rot.
How to Fix It:
A professional can inspect your gutters and downspouts and clean out any debris that has caused them to clog or replace the gutters if they are damaged.
Damaged Skylights
Impact from hail and windblown objects will sometimes crack the glass in roof-mounted skylights.
How to Fix It:
In some cases the damaged glass panel can be replaced, but most often a new skylight unit must be installed.
Roof Ventilation Issues
Sometimes roof vents (like a gable-end vent, for example) allow insects and animals into the attic because they aren't properly screened. In other cases, there may not be sufficient ventilation, necessitating the installation of additional vents. Ventilation problems can also result when vent openings are blocked.
How to Fix It:
A skilled, full-service roofing contractor will be able to diagnose and fix these problems and either repair a damaged roof vent or install new vents if necessary.
Rotted Wood
When wood gets wet and can't dry out completely, wood rot is likely to occur. Even a small leak can result in rotted roof sheathing and rafters, which will seriously weaken the roof structure. Other areas vulnerable to wood rot include the fascia board and soffit.
How to Fix It:
These problems are often discovered during a re-roof, and can be corrected by patching in new material.
Too Many Layers of Roofing
When a new asphalt shingle roof is installed on an existing house, the old asphalt shingle roof can be removed or left in place. Most building codes say that you can't install more than two layers of asphalt roofing, but this rule is sometimes ignored. There are two main problems with three layers of roofing. First off, the uppermost roofing shingles are likely to be uneven and inadequately anchored to the roof sheathing. Secondly, the combined weight of the roofing material can exceed the strength of the roof framing.
How to Fix It:
The solution is to remove all three layers of roofing and start fresh, directly on the roof sheathing.
NOTE: Many of the problems described here apply to all kinds of roofing materials, not just wood and asphalt shingles.
We are Greater Cleveland's experts for quality roof services
After inspecting your roof, our certified professionals will know exactly what needs to be done to repair your roof. Some damage will only need minor repairs, while other roofing damage will require a complete roof replacement. We will help you choose the right solution to ensure the you get the most out of your investment.
Roof Replacement
Getting a complete roof replacement is a major project for any homeowner. If your roof is showing signs of age or has significant damage, regular repairs and maintenance may not be enough to preserve the integrity of your roof.
Roofsmith Restoration are your local experts for complete roof replacement. We service a wide variety of roofing materials and give you a durable, high quality roof that will perfectly complement your home and last for years to come.
How to know when to get a roof replacement
Depending on what type of roof you have, these are some signs that could indicate the need for a roof replacement
Roof is very old or past warranty
Missing or broken shingles
Bare, curling, or buckling shingles
Numerous broken tiles
Damaged flashing
Cracks allow water or daylight through
Call Roofsmith Restoration today if your roof is displaying these signs. Our expert roof inspection can tell you if you need a full replacement or if repair and maintenance is a better option for your home.
Besides having a leaky or damaged roof, there are other reasons why it might be smart to consider roof replacement.
Here are three other reasons to have new roofing installed on your house:
Increasing home value - Even if your asphalt shingle roof isn't worn or damaged, it can make sense to replace your roofing to increase curb appeal and real estate value. Some homeowners decide to install new roofing as part of their preparation for selling a house. When combined with new exterior siding or an exterior paint job, new roofing can really make an older home look brand new. Apart from its aesthetic impact, a new roof offers a great deal of financial security to a prospective home buyer. The new owner won't have to worry about roof replacement or common roofing problems for a long time.
Replacing a worn roof - Asphalt roof shingles typically last anywhere from 15 to 25 years. Unfortunately, factors such as storm damage, low slope, ice damming, and mold or moss growth can significantly shorten the life of any asphalt roof. If your roof has any of the characteristics described in the "signs of worn roofing" sidebar, it's a good idea to replace the roof. Otherwise, you risk even more severe problems like rotted roof framing and leaks that can damage the house and its contents.
Completing a major remodel - Are you planning to build an addition? How about adding some dormers or skylights? These major remodeling projects involve changes to your roofline and the installation of new roofing. Rather than have an unattractive mix of new and old roofing, many homeowners elect to have a total re-roof done as part of the project.
Roof Repair & Maintenance
Extend the life of your roof & improve the look of your home
Common Types of Roof Damage:
Roof leaks
Missing/cracked/curling shingles
Dark spots on the roof
Blistering of paint on interior & exterior
Wind & hail damage
Roof repair and roof maintenance go hand in hand, as good maintenance will limit the scope of repair jobs. Minor tasks such as sealing leaks and replacing damaged shingles will preserve the life of your roof and maintain its quality. Additionally, it's often possible to put off the major expense of total roof replacement by making small spot repairs as necessary.
If you are experiencing problems with your roof, a thorough inspection, along with our roofing services, will give you the peace of mind of knowing that your roof is prepared to withstand any type of weather.
Benefits of regular roof maintenance
The type of roofing material creates different challenges for roof repair work. For example, asphalt shingles, wood shingles, concrete tiles, and clay tiles often have damage to individual shingles or tiles, meaning those pieces need replacement. Metal roofing generally comes in much larger panels, so those are only replaced when spot repairs aren't effective. Finally, flat roof repair is an entirely different process due to the rolled material and liquid waterproofing compounds.
Maintaining your roof will help prevent major repairs in the future.
No matter what type of roof you have, regular maintenance is very beneficial. There are several key reasons to perform consistent maintenance:
Prevent leaks, drafts, and other exterior problems
Stay aware of potential issues and fix them before they become major
Prevent expensive repairs in the future
Maintain appearance
By performing regular maintenance, you can keep your roof in good condition and prolong its lifespan, saving you the hassle and expense of full roof replacement.
Emergency Roof Repair
No homeowner ever wants to experience a roofing emergency, but sometimes Mother Nature has other plans. In the event of a roofing emergency, it's important to quickly get professional repairs in order to prevent damage to the inside of your home.
At Roofsmith Restoration, our roofers are always ready to go at a moment's notice with the equipment and expertise needed to quickly and effectively repair all types of roof leaks and roofing damage. As one of Greater Cleveland's leading roofing companies, our roofing crews are well versed in all types of roofing materials and can solve any problem you may have.
Common causes of roofing emergencies
Delayed maintenance and natural wear due to weather and UV radiation
Fallen tree limbs
High winds tear off shingles and/or roof decking
Ice dams and ice buildup in valleys
Improper installation practices
Flashing failures at roof penetrations, including around chimneys, vent stacks, and dormers
Some roofing emergencies are preventable, but others are simply out of the homeowner's control. Homeowners should always take care to have proper roof maintenance and practice preventative strategies like snow removal to prevent ice damming, but even in those cases a roofing emergency is a possibility.
Things to remember in a roofing emergency
In the case of a roofing emergency, make sure you remember these three points
Don't go up on the roof yourself: A damaged roof is a dangerous environment, and you should let a professional be the first to check it out
Cover the interior: Using plastic sheeting will protect the interior of your home and help prevent leaks
Inspect the roof visually: From the ground, take a visual inspection of your roof to note debris and possible damage
Leaky Roof Repairs
Roof leak repair begins with roof leak detection. If the rafters and underside of your roof deck are exposed, you will have an easier time of it. That being said, it's important to note that water leaks have a way of being incredibly deceptive. The spot where you see water and stains may be some distance from the actual roof damage.
A professional roofer knows the tricks that water can play, so don't risk climbing onto your roof and searching for the source yourself. Roofsmith Restoration provides fast, reliable leak detection and roof leak repair services for Ohio residents.
When locating a leak, remember that water can't run uphill, so leaks on a pitched roof cannot be below where you see evidence of a leak. Water can enter through exposed nail holes or an area with missing shingles, traveling over old layers of roof and roofing felt until it reaches a gap or tear that allows it to penetrate to the roof deck. From there, it may run over the plywood until it crosses a joint – whereupon it may resume its journey along a rafter or the underside of the decking.
Timely leak repair can help prevent mold and wood rot
Finding the origin of a leak when the underside of your roof is hidden, such as with cathedral or vaulted ceilings, is a real challenge. Water can travel many feet from where it enters before showing itself. With drywall or paneling on the ceiling, it may travel even further. A small leak may not even be noticeable except during prolonged rain fall, but that doesn't mean it's harmless. Moisture inside the roof assembly can degrade insulation and promote the growth of mold and wood-rotting fungus.
With substantial leaks, you will see discoloration on your ceiling. On a horizontal ceiling, water may pool and saturate the drywall. If you see this happen, puncture the saturated area with a pencil and allow the water to drain into a large bucket until you can repair the roof. If the leak cannot be found by inspecting the roofing, a sizable section of drywall will have to be removed to pinpoint its location. Once the leak has been located, technicians will measure from reference points, such as a chimney and the ridge, so they can transfer the leak location to the roof.
Ridge Vents & Roof Ventilation
It's understandable that roof ventilation is often overlooked, as most people are simply worried about their roof keeping their home dry. However, a well-ventilated roof can make life easier and better for those living beneath it. Proper roof and attic ventilation can lower heating and cooling costs, improve interior comfort, and grant longer life to roof shingles.
In the summertime, a properly ventilated roof allows hot air in the attic to escape, reducing the demand on your air conditioning system. In the winter, ventilation combines with good attic insulation to keep the roof surface cold, so that snow won't melt on the roof surface and then freeze to form ice dams along the eaves.
Add roof vents to ensure a long-lasting roof over your head
If your roof is not well-ventilated, ask a roofing contractor about improving roof ventilation with ridge, soffit or gable-end vents. All of these roof vents can be installed in an existing roof, or when your roofing is being replaced.
The specialists at Roofsmith Restoration can help you choose the right type of roof vents for your home to help you gain a properly-balanced attic ventilation system.
Wood Rot Repair
Wood rot often comes as an unpleasant surprise. Perhaps you're having your roof shingles replaced and the roofer announces that the decking, rafters, and/or ridge board is rotted.
Or maybe you're preparing to paint an exterior window sill or trim board and you notice the wood under the old paint is soft. Worse is when you're in the basement or crawlspace and notice rot in structural beams and joists!
Left untreated, with the right conditions, wood rot can spread and eventually weaken the structure of your home. Of course, a home with significant rot will also lose its resale value, so it's imperative to take action.
What causes rot anyway?
The fungal spores that cause wood to rot are all around us. Fortunately, they are not always active, and rot damage does not occur overnight. Dry rot is a common type of wood rot in which wood is attacked by fungi. The fungi destroy the parts of the wood that make it strong and firm.
To grow and begin to digest wood, fungal spores need adequate amounts of water and high relative humidity. When the moisture content of the materials with which your home is built is coupled with high relative humidity, the stage is set for rot.
Where to Inspect for Dry Rot & Wood Rot
Armed with an awl or a small screwdriver, inspect locations where rot often gains a foothold. Use the tool to poke into areas that are suspects (blistered or soft) to see how extensive the rot is. Rot is likely to occur in:
Exposed framing in a basement or crawlspace
Exterior window sills and door thresholds
Exterior window and door casings (trim)
The underside of roof decking (if accessible from the attic)
Roof framing (if accessible from the attic)
Fascia (trim to which gutters are often attached) and rake boards (trim on the gable end of a roof)
A solid roof can help prevent dry rot damage
Most of the strategies for fighting dry rot throughout the house begin with your roof. If your roof is not sound and your gutters are clogged or misaligned, tremendous amounts of water can enter your home and saturate the ground around your foundation (which can also allow water to seep into your home). So, the first rule of home care is to make sure your roof is leak-free and in good repair. As a leading roofing contractor in Greater Cleveland, we offer comprehensive roofing services, including a variety of roof repairs to help you maintain your roof's condition.
Roofsmith Restoration also understands that the roof is more than a barrier to rain and snow. It is also where your home exhales! A properly vented roof also expels much of the water vapor that builds up in the home and plays an important role in keeping the moisture content in building materials to safe levels.
Vent openings are typically located along the roof's ridge and soffits at the eaves. These roof vents are usually continuous in order to maintain adequate air flow.
Warm, often humid, air naturally rises up (warm air rises) through the ridge vents and replacement air is drawn in through soffit vents to replace it.
Called convection, or the "stack effect," replacement air may also be drawn from wall cavities that surround the lower levels of your home – and even from your basement. The stack effect normally helps maintain low moisture levels throughout your home.
Hail Damage
We provide expert roofing repair for storm damage
Hail & Storm Repair Services
Free & thorough inspection of roof for storm damage and roof hail damage.
Inspection covers roof shingles, gutters, skylights, flashing, vent hoods, vent stacks, chimney caps & chimneys.
Free estimates for all recommended roof repairs.
Prompt, expert repair and/or replacement of storm-damaged roof elements.
Following a severe storm, your first roofing concern is whether or not the storm caused any leakage that might damage your home's interior. Even if your roof does survive a hail storm without leaking, there may still be significant hail damage. That's why it's important to call in an experienced roofing expert like Roofsmith Restoration to check your roof for hail damage.
Attic Installation
The attic is often out of sight, out of mind for homeowners, but it can have a major affect on your home. An attic that is incorrectly or insufficiently insulated can make your home feel more uncomfortable while also wasting energy.
Attic insulation makes a major difference
Many times, homeowners don't realize the attic could be a cause of their high utility bills, uncomfortable rooms, or uneven temperatures. Without proper air sealing and insulation, the air that you pay to heat and cool can escape your home and be replaced by unconditioned air from the outside.
We will provide you with a complete attic insulation system that prevents these problems in your home. By preventing the loss of conditioned air through your attic and roof, we can ensure that your home remains comfortable with consistent temperatures throughout the house.
Types of attic insulation
At Roofsmith Restoration, we offer a variety of insulation materials to best suit your needs:
Fiberglass batts:
Fiberglass batts are the traditional form of insulation, fitting inside the joist cavities. Fiberglass insulation is an economical option, but can be prone to decay from moisture and pests.
Blown-in loosefill:
Blown-in insulation provides excellent R-value and will provide a long lasting solution. However, this may not be the ideal option for you if you use your attic for storage.
Dense packed cellulose:
Blown cellulose insulation provides the best R-value and fire resistance of the insulation options, though it will be a little more expensive.
We are happy to evaluate your home and help you determine what type of insulation is best for your needs and will provide you with the ideal results.
Upgrade your home's efficiency with quality attic insulation
Having proper attic insulation can make a big difference for your home's comfort and energy costs. Roofsmith Restoration provides all the home insulation solutions you need, ensuring that your heating and cooling systems operate efficiently and you save money.