commercial services
The craftsmanship and quality you need for your commercial project Commercial roofing, siding & window services in Greater Cleveland Commercial services by the experts at Roofsmith Restoration.
Roofing, Siding & Windows for Commercial Buildings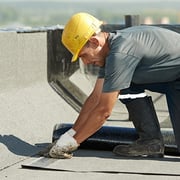 Roofsmith Restoration has been servicing commercial properties since 2010. With vast experience under our belt, we continue to provide roofing, siding, and replacement windows for commercial properties all throughout Ohio.
We combine our expert craftsmanship with exceptional customer service to deliver a finished product any property manager would be more than pleased with. Roofsmith Restoration's staff of certified roofers can handle jobs of any scale, all within a reasonable budget in a timely fashion.
A commercial project is a big job - one that we know all too well. With that being said, we not only offer commercial roofing, but we also specialize in windows and siding installation.
Commercial buildings function their best when their exterior components are well maintained. Here at Roofsmith Restoration we can install energy-efficient windows and high-grade siding options from leading manufacturers.
New roofing, replacement windows and new siding can allow your building to function at its full potential and it will look great for as long as you own it. Our expertise in commercial projects along with our top-of-the-line materials can ensure a lasting, quality job that will never require work or maintenance over the years.
Our commercial services available in Greater Cleveland:
Siding installation for new construction projects, as well as repairs and replacements for existing buildings.
Commercial roofing installation & replacement systems.
Small repairs for windows on commercial buildings, as well as affordable replacement options.
Leak evaluations and storm damage related services for roofing & siding.
Why choose us as your commercial roofing company?
Every community has plenty of roofing contractors. We want to earn your commercial roofing business the old-fashioned way – by exceeding your expectations for responsive, top-quality service. Here's what you can count on when you call on Roofsmith Restoration:
Courteous professional service.

At Roofsmith Restoration, we recognize that your commercial property is a valued asset that plays a major role in your business success. Our pledge is to always respond quickly to your commercial roofing needs and to deliver the best value and highest quality every time.
Well-trained workers.

We recruit conscientious, dedicated team members, train them well and make sure they have the skills to do top-quality work. Whether you need repairs on an old-fashioned built-up roof, a new single-ply roof, polyurethane foam roofing or anything in between, we have the know-how to serve your needs.
Excellent equipment.

We are constantly updating our tools, trucks and other equipment to ensure that every crew can work safely, efficiently and to top industry standards.
Access to the best roofing materials. We deal with major building material manufacturers to make sure we have access to the best roofing products at competitive prices.
Call Roofsmith Restoration to schedule a free estimate
All of our commercial projects start with a detailed inspection and on-site consultation. We take the time to inspect your property and offer the best solutions on the market today, at a competitive price. With the highest quality products and services, Roofsmith Restoration can ensure a well-crafted, finished job you can be proud of.