Blog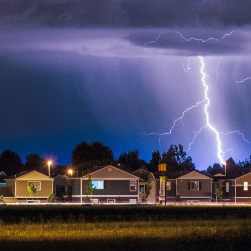 How to Tell If Your Roof Has Signs of Storm Damage
A major storm blew through your neighborhood. There's debris on the ground and some of your neighbors have shingles loose. How do you know if you have roof storm damage?
To keep your home secure, you need to quickly address roof storm damage. Often, it's impossible to tell from the ground, and you should never attempt to get on your roof yourself.
So, how do you assess possible storm damage safely, promptly and accurately? Call the professionals.
Get a Professional Opinion
A residential roof repair contractor, such as Roofsmith Restoration, can give you a professional assessment and identify any necessary work.
There are a variety of ways a storm can damage your roof and some signs of storm damage.
Blow-off damage: High winds can result in blown-off shingles, which will expose your interior to leaks. Water damage is capable of producing major issues, so any sign of possible leaking or weak points in your roof should be addressed quickly.
Tree damage: A large tree down on your roof would be an obvious sign, but smaller branches can do serious damage as well, by leaving many small, unseen dents that can lead to water damage.
Damaged shingles: Never ignore missing, broken or torn shingles. Once you have damaged shingles, your roof's protective layer is less than secure. Even bald shingles is a bad sign, as those protective granules help keep moisture out.
Roof leaks: Any sign of roof leaks needs immediate attention, such as water spots on ceilings or walls, missing or damaged shingles, and wall or ceiling discoloration.
Damaged skylights: Hail and windblown objects can cause damage to roof mounted skylights.
Hail damage: Hail can cause hundreds or thousands of punctures in your roof, which are not always visible to the eye.
The most critical thing to know is roof storm damage can be unseen. Even if you don't see any sign of leaks, small punctures and damage from tree limbs and debris can destroy the integrity of your shingles, leaving you with problems waiting to happen.
Following any severe storm, particularly if you see others in your neighborhood with signs of storm damage to their roofs, you should contact a professional roof repair contractor and get an assessment.
Insurance Claim Experts
When you have a roofing insurance claim, having a professional on your side, like Roofsmith Restoration, can make the process much smoother.
At Roofsmith, we have extensive experience dealing with insurance companies. We can offer quick turnaround on roof estimates. Our estimates include all the details that insurance companies require, so you'll be assured that filing your claim will be free of extra hassles. We're adept at helping our customers navigate the process seamlessly, and we will quickly address your roof repair to keep your home secure.
Have possible roof storm damage? Contact Roofsmith Restoration.