residential windows
Replacement windows can give your home the look and comfort you need and provide potential savings on your energy bills. Proper window replacement can also drastically increase the value of your home.
We can help improve the look, comfort & value of your home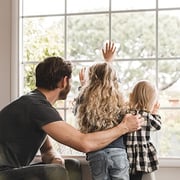 Window replacement is a cost-effective way to give your home a fresh look.
Roofsmith Restoration installs quality, maintenance-free replacement windows to fit every style and budget. We offer only the highest-quality products from the nation's leading manufacturers. Our experts will help you choose the right type of windows to solve all your needs. Whether you're looking for a new look, improved energy efficiency and comfort, or a low-maintenance exterior, you can trust our window installation professionals to provide the results you expect with minimum hassle.
If not replaced properly, you can experience problems you have already dealt with in the past. We recognize the importance in replacing windows the right way, so that they last you a lifetime.
If your windows are out-of-date or were improperly installed, we can replace them with windows that are beautiful, energy-efficient and long-lasting.
Proper window replacement can result in several benefits for your home
Energy savings: During cold winters, properly-insulated windows can keep your home at a comfortable temperature and reduce your heating expenditure.
Aesthetics: Beautiful, new windows can add to the appearance of your home on the inside and outside. Getting the look you want is important, which is why we offer a variety of styles and materials.
Easy to maintain: The specific products we use allow your windows to be easy to clean and take care of. Materials such as fiberglass, vinyl and aluminum are durable and maintenance-free.
Home value: By replacing old windows in your home, you can increase its value when it comes time to sell it. Replacement windows make a huge difference in appearance and stability.